Transitional Country Dining Table Leg
Volume Discounts
Save 5% when ordering 24 or more pieces of the same product
Save 10% when ordering 50 or more pieces of the same product
Save 20% when ordering 100 or more pieces of the same product
*Discounted pricing reflected in cart
*All wood components are unfinished. Learn more about wood types or request a quote.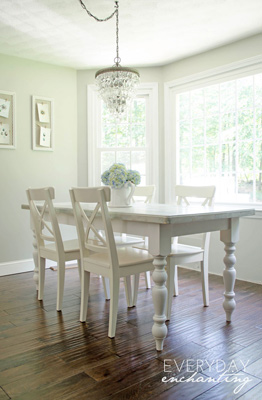 As the farm table design has progressed from a simple, functional design, the variety of styles that compliment the rustic charm continues to grow. What once began as straight, sturdy supports has now grown to a variety of turnings that easily compliment the country allure. One such turning that has developed is the Modified English Country Dining Table Leg.

The Modified English Country dining leg is a variation on the Old English Dining Leg that shortens the square, stretches the turning, and softens the foot. With a delicate, classic design the Modified leg emphasizes the softer side of the country farm style. This turned design adds a mesmerizing charm that will make guests feel welcome and at home.
Available in several wood types, this dining table leg is a perfect option for any farm style table. It is 29" tall with a width of 3 1/2" making it an ideal size to complement any space.

Build This Table! DIY Tutorial and Plans

Reviews
You must be logged in and have previously purchased this product in order to leave a review.